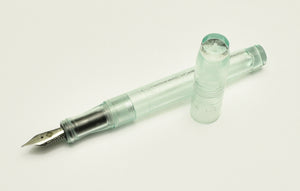 Here is the antique glass acrylic in the M45L fountain pen, the slightly longer barrel version of the 45, which holds a converter. The antique glass acrylic may over time have some "micro fracturing" in certain spots. While this does not affect the structural integrity of the pen, it may cause frosting in certain spots. Please keep this in mind in making your purchase. 

​♦ Dimensions:
.550" cap diameter
.510"  barrel diameter 
5" capped length
6.12" cap posted length (including nib)
4.75" barrel only length (including nib)
.383" grip section at thinnest point (curved)
weight without ink = .53oz / 15.14g; barrel holds approximately 3.5ml of ink when eyedroppered

♦ Still a pocket pen but long enough to fit a standard converter (included)
♦ Classic lines w/ no clip
♦ Cartridge, converter, or eye dropper filled. 
♦ Precision posting for firm grip on the cap while posted.
♦ No. 5 size nib
♦ Lifetime warranty
♦ Made in USA in our NC facility
♦ Shipped with the bonus of a Franklin-Christoph single pen zippered pouch with an outer white thin box.