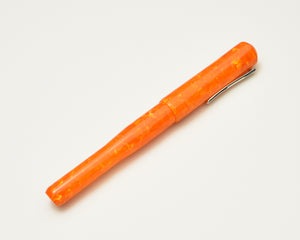 We have one gently used office demo- M02 Orange Crush fountain pen with HPS medium nib. Cleaned and ready to sell at 25% off the regular price.
♦ 
Designed for writing balance without the cap posted. Special center barrel taper, so that the cap posts deeply.

Dimensions:
.610" cap diameter
.550" upper barrel diameter 
.445" lower barrel diameter
5.750" capped length
5.850" cap posted length (including nib)
5.150" barrel length (including nib)
.44" grip section at thinnest point
Weight without ink = .73oz / 20.71g; barrel holds approximately 3.8ml of ink when eyedroppered
♦ 
Standard Int'l Cartridge / Converter filled, one of each included. Also can be used as an eyedropper. 
♦ 
#6 Size Medium nib 
♦ 
Lifetime Warranty. 
♦

 
Ships in a Franklin-Christoph single pen zippered pouch.