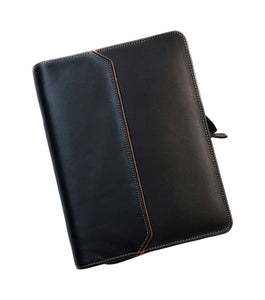 ♦ 
These C20s are napa black leather seconds where we've found dents or creases or marks. These few didn't make the cut, so we're selling them at a lower price, as seconds. 
♦ 
Securely zipped with custom leather tabs. 40 flex bands to securely hold your 20 pens in place, large or small. The bands are offset toward the edges so that pens can be placed inside with the option of not running the clip over the band.
♦ 
Franklin-Christoph small logo at base of the back leather.
♦ 
Padded brown soft cloth interior, with a protective cloth flap for each side.
♦
Our Napa black is a high quality leather, smooth on the surface, with a brown piping accents. 
♦ 
Dimensions:
20 Pen = 9.35" x 7.75"  
♦
Free shipping worldwide.