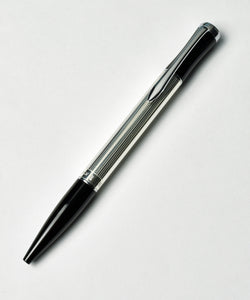 Settelaghi is a brand owned by Ferrari da Varese of Italy. They have been friends and partners of ours over the years and we recently acquired these sterling silver and black lacquer ballpoints which we can offer here for a special price. 



The black parts are lacquered brass, and the longer middle sections are .925 sterling silver. They take the Schmidt Mini P630 standardized refill. 
Included is a Settelaghi gift box, and a silver polishing cloth. 
While supplies last. MSRP would have been around $150 for this piece.



Settelaghi means "7 lakes" representing the area including seven lakes near Milan, in northern Italy.