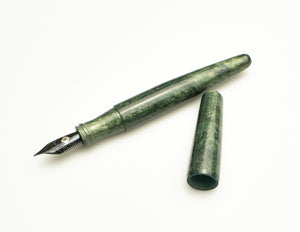 ♦
The pocket 66 fountain pen is an SEO (Special Edition Only) pen that we make less regularly. This is an edition of 25 pieces in Diamondcast Green. 


♦
The 
pocket 66 features our special block threads at the end of the grip section. These smoother feeling threads are out of the way of your fingers. Placing the threads at this spot also limits the amount of air within the cap chamber, thereby helping to eliminate dry out. The design of the block threads also releases the air when you unscrew so as to not create a suction effect on the ink. 
♦
Filled via short international standard cartridge or via eye dropper. Does not come with a converter. 
♦
For eye dropper instructions visit our how to page

. 
♦
Free worldwide shipping
. 
♦
Shipped in a single zippered pouch with outer white box 
♦
Dimensions: 
4.75" from nib tip to end of barrel 
5" capped
.55" barrel diameter near cap
5.56" with cap posted
.42" smallest diameter of grip section
Weight = .919oz or 26.07 grams
♦
#6 Size nib - with many tip options in factory or custom ground. 
♦
Lifetime warranty
♦
Made in USA