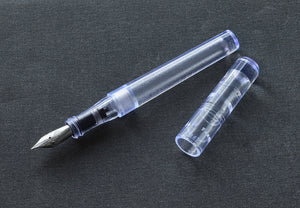 The Modified 03 fountain pen features a solid one piece cap. This design we use for our maki-e limited edition pens. So the cap is slightly shorter, with no finial or disk as compared to the regular 03, which means no clip option. This edition is in Italian Ice. The Italian Ice acrylic material can appear very clear, or show with a lavender glow, depending on the amount of UV light hitting it. Keep in mind that over time it is normal for parts of the interior to micro-fracture and alter the look slightly. This is aesthetic only, but consider when making your purchase. 
♦
Iterum is Latin for "again" or "once more" as the Model 03 is designed in the spirit of our original Model 01 IPO. Straight sides with very subtle tapers down toward the ends. Mostly flat top and bottom with just a hint of the normal Franklin-Christoph bevel on each end. 
♦
Threads on the end of the grip for comfort. This also allows for precision posting so there is no creaking or wobbling when the pen is posted. 
♦
Lightweight made of acrylic at .65 oz or 18.4 grams (with nib and converter un-inked)
♦
#6 Size nib - with many tip options in factory or custom ground.
♦
Cartridge - piston converter - eye dropper filling options. Barrel holds approximately 3.1ml of ink when eyedroppered.
♦
Made in USA.

♦
Dimensions:
Smallest point of grip section: .391" 
Largest point of grip section: .480"
Barrel center: .512"
Cap center: .575"
Cap length: 2.375"
Nib tip to barrel end: 5.010" 
Cap posted full length to nib tip: 6.875"  
Length when capped: 5.37"
♦
Lifetime warranty
♦
30 day return policy.
♦

 
In lieu of a traditional gift box we ship in a Franklin-Christoph one pen zippered case with outer white box.