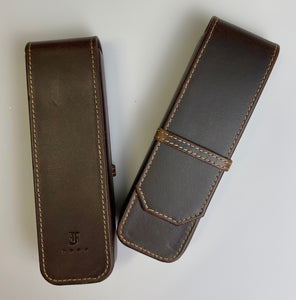 Now offering a popular 2 pen case from our archives! We are selling these at 30% off the original price in our spring cleaning efforts and consider these "seconds" which may have small mars and creases from being in storage and/or show demos.
♦

 

Charcoal Black brushed leather  or Brown oiled leather in our classic styling. Flap and band closure system. Sewn-in black nylon cloth interior.
♦

 

The pen case has interior loops that can handle pens as thick as .7" and also as tall as 6.3". 
♦
Exterior case dimensions:
PC2= 5.5" tall x 7/8" deep x 1 5/8" wide
♦

 

Cut out beveled look at the top interior to make the pens easy to grasp for pulling out. 
♦

 

Interior loops are made of firm nylon loops, which run the length of the cases to protect your pens from top to bottom. 
♦

 

You can fit this 2 pen case in many places, including coat pockets, brief cases and pursue, and more. The F-C logo is placed on the lower back.
*Note that if you have pens made of ABS Plastic (Lamy Safari or Twsbi for instance) - that material can draw dyes out of many fabrics and stain pens after long insertion in pen cases. ABS Plastic is primarily used on inexpensive pens and is not an issue with most fine pens.