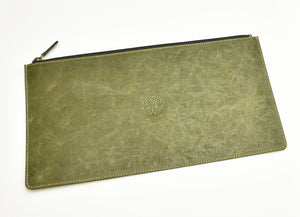 ♦ 
Featured in NWF Olive. NWF is a natural wood fiber that is leather like in quality and durability. Offered here in our Olive Green option.
♦
 These bags are semi-firm, but have that supple feel and bend just the right amount. 
♦
Great for traditional bank uses or good for storing cash, receipts or documents, or as a nice every day carry piece for phone, pen, notebook, etc. A couple of F-C staff carry one in the car side door for keeping coins, cash, receipts, pens, etc. 
♦
High quality zipper that will last. Dimensions: 11.62" x 6.12" - will fit flat items under that size and smaller if thicker items. 
♦
Soft cloth interior.  Small F logo debossing on one side, Celtic Knot debossing on the other.