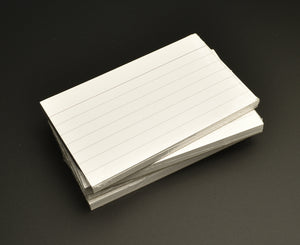 This is a specially formulated paper designed for fountain pen use with these key elements:


♦ Smooth
♦ Resistant to feathering
♦ Absorbent
♦ Resistant to bleed through

These cards are 100gsm made from sugar cane extract, are pH neutral, and acid free in a proprietary Franklin-Christoph formula. Acid free means it's good for archival purposes. These cards also work well with rollerball and ballpoint ink, as well as pencil. 
 
Exterior Measurements   -  3" tall x 5" wide

♦ Note that this sugar cane paper can have a very light lavender hue in certain types of indoor light. Especially in comparison to bleached out copy paper.