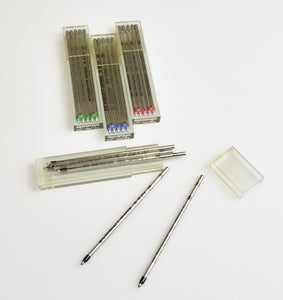 This is our mini refill made to fit our Model 28 Shortstock ballpoint. Also fits our former Model 29 Shortstock and Model 11 Mini ballpoints. 
This is the Schmidt 630 M refill. The size is also known as the "international mini." 
It measures 2.65" in length (2 5/8") or 67.3 mm. It is .19" thick or 4.82mm. 
Available in 5 packs of black, blue, green, or red. Also in a multi-pack of 2 black, one blue, one red, and one green. $7.91 per pack.