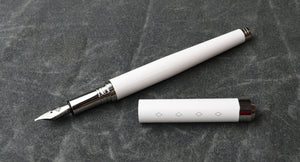 ♦ Presenting the Model 28 Libertas fountain pen - a metal based fountain pen and ballpoint. 

♦ This option is the lacquered white, with rhodium trim.

♦ Metal base parts are made of aluminum and brass. 

♦ Spring loaded clip.

♦ The fountain pen is designed with a longer barrel, to be comfortable without posting. It will post, however note that the pen then becomes back weighted. Cartridge/Converter filled. Takes small or long international cartridges. 

♦ #5 size nib. Converter included.

♦ Fountain Pen Dimensions:
5.87" capped length (149mm)
5.25" barrel end to nib tip length (133mm)
.43 thickest barrel diameter (11mm)
.32" grip diameter (8mm)
6.62" - fully posted length (168mm)

♦ Weight= 1.32oz / 37.42 grams

♦ Lifetime Warranty - 30 day return policy

♦ Included with a Franklin-Christoph zippered pouch.